Animal live stream at our barn or directly on twitch,
Feeding Times: 9am, 15pm and 23pm GMT+1!
This years remote farm update
Shelly has created 5 lovely badges for us, so look around to get all of them all!
get an "Early Bird" award by joining our morning feeding sessions
find the "Dungeon Flames" in our basement, heating up our farm house
have a look around to find the "Keeper of the Bees" badge
explore the space by using our "Corn Rocket Traveler"
and meet us – angryelven & wabu – somewhere at the farm or around the rest the rc3 world to get an exclusive token for six "Astro Chicken" badges, that you can use for yourself and five friends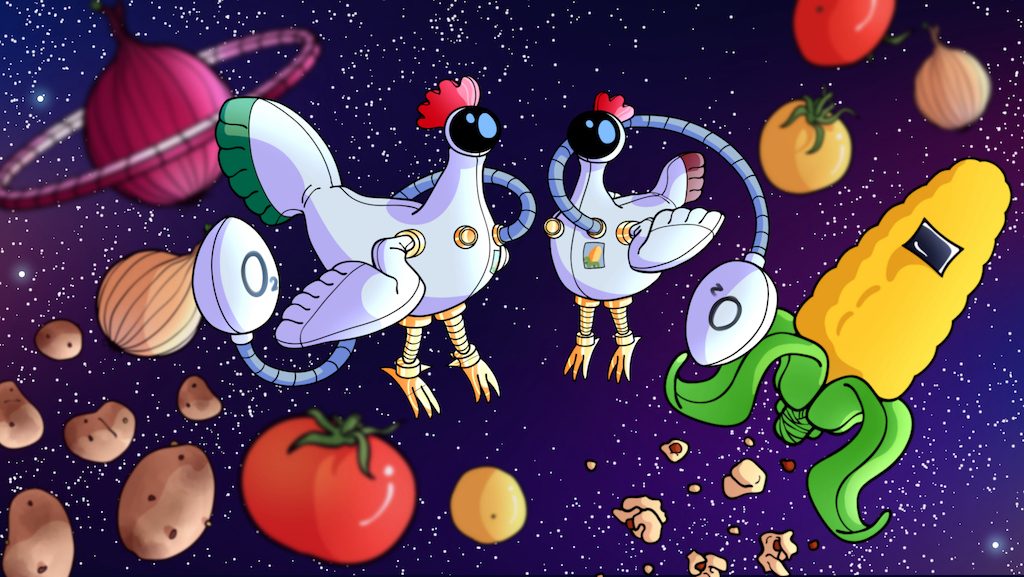 Moreover, we will have a live stream in our barn from our friends from the #abchillgleis.
A short Introduction

In normal times, we love to welcome fellow hackers from Berlin and around the world at our small family farm in the beautiful Havelland. As this was not quite possible for most of the time this year, we're even more happy to welcome all of you on our pixel version of the farm. Friends just joined in and put up there camper van inside our pixel farm and if you want to visit us, just join in with your van, tent, or find a free spot for your hammock.
Here you can just enjoy your time around a farm, or share insights into growing, bee keeping or taking care of chicken – and on how science, low-tech or high-tech hacking could help with creating a sustainable life at small or large scale. Or you can discuss thousands of other things here with us or our friends like knitting and sewing; how to raise a baby diaper free, how to use cloth diapers, not to forget bringing a baby up with attachment parenting; playing a game of go, python and other programming languages, data science and AI or martial arts.
We still have to find out what the best communication channels are here at the congress, so stay tuned for updates or come by from time to time. And there's still a lot of construction taking place, both inside the virtual realms (rc3 world and this website) as well as on the physical place, so expect some rough edges here and there.
We plan to have a farm live-stream set up, so you can see some real animals and I'll announce feeding times, so you can join me walking around the farm and feeding cats, a dog, chicken and horses. If there's enough interest and we manage to do so, we also could schedule some bee keeping workshop or talk about different growing and soil preparation approaches. So … stay tuned, put some comments here or on the congress wiki or just talk to us and others walking around here,
Yours,
ninu & wabu